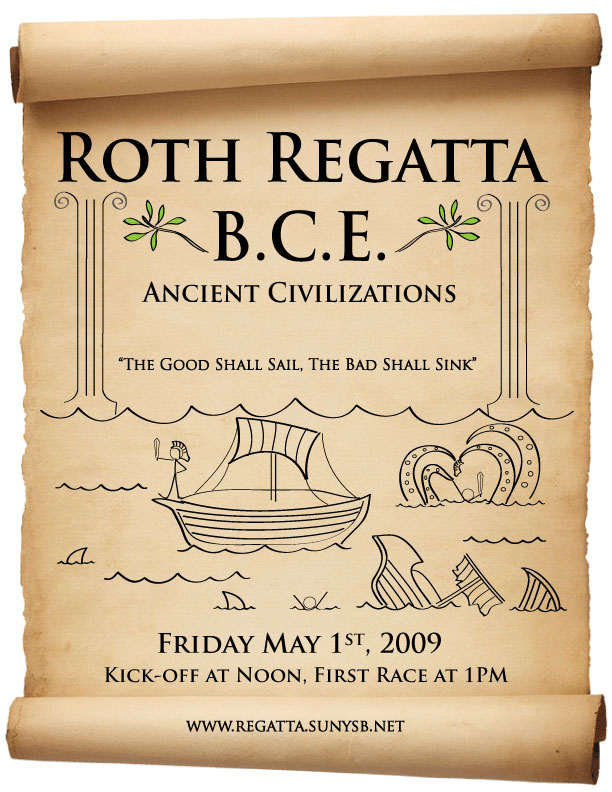 "The best sporting event in America"
-Shirley Strum Kenny




To Compete in the Regatta:
Your team must be Registered on-line by 11:59 PM on April 28th.
If you Register by April 24, the Captain and each Crew Member will receive a FREE T-Shirt!




The 2009 Rules
Please read fully!

Register On-Line
You MUST register on-line at least 2 days before the Regatta if you wish to to compete.
If you register on-line at least 1 week in advance, you will receive a FREE T-Shirt for the Captain and each Crew Member.

Release Forms
You MUST bring a Release Form for the Captain, each Crew Member, and each Land Crew member.
If The person is under 18, they MUST have a notarized parent/guardian consent form, as well.
You must bring printed, signed copies of the Release Forms with you. Copies will not be available on the day of the event.

Volunteers Needed! Get a FREE T-Shirt!!!
We always need plenty of volunteers, sign up today!

Past Regatta Results
Well, we've only been keeping track in recent years...but if you know who won in the past, email us and let us know!

Images from past Regattas
These were taken by Jim Quinn, from the Materials Science and Engineering department.
He maintains an extensive database of photos from past regattas on his website.
Thanks!!!

Roth Pond Regatta Constitution
Our club's constitution.

E-mail us with questions, comments, suggestions, random personal stories, cool recipes, whatever.
We'll be sure to read it. We'll probably even respond.






All content on this site, including forms, scripts, pages, rules, images, and title "Roth Pond Regatta" are ©2001 and ©2006 Nicholas Kilb, and used under license to The Trustees of The Roth Pond Regatta, unless otherwise specified. Any attempt to make use of, duplicate, transport, or store these materials without written authorization will be subject to civil and criminal penalties. The images on this site are the intellectual property of Jon Griffin and James Quinn, and may not be used, duplicated, transported, or stored without their express permission. All content herein is provided for recreational purposes. No guarantees of accuracy of information are provided; use at your own risk. Comments, complaints, and inquiries should be directed to support@rothregatta.net